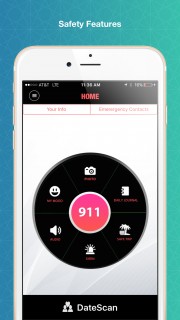 A free new app available for the Apple iPhone is aiming to make dating safer with an ability to scan offender registries with a simple touch of the button and offers other unique features that work to keep the user safe.
Orlando, Florida, February 14, 2016 (Newswire.com) - There's a new innovate safety app available for free download for Apple iPhones.DateScan, the first and only dating safety app, offers a variety of features that helps the user stay safe, escape awkward situations, store important data, and check offender registries with a name and touch of a button. Those already using the app have expressed praise for its ease of use and safety features.
With the rise in popularity and easy access to online dating, social networking and other apps that bring greater connectivity between strangers, safety has become a major concern. Dating and especially blind dates or those meeting for the first time in person from an online introduction can be more dangerous than people realize. TheDateScan app helps to mitigate some of those safety concerns.
"We feel that DateScan is comprehensive app unlike other novelty apps which only provide one feature. We are confident that with DateScan, we will make dating safer."

Ankit Patel, Founder
One of the primary features of the DateScan app is the ability to type in a person's name and check them against offender registries. If their names comes up, the users will know ahead of time before choosing to meet someone unsafe. If their name does not come up, the search inquiry is still saved in the phone if needed later. DateScan offers privacy and stores the data on the cloud so none of the app's information is stored in the phone in case the phone is lost, broken or if an attacker tries to remove the data.
DateScan App also features a rocket-fast sign-up that takes seconds not minutes, a fake call simulator that can be set up to look like a call from a friend or family member to rescue the user from an awkward situation, and a siren button that can be used to draw attention and scare off an attacker. In addition, the app features fast dial 911 and dynamic emergency calling so when on vacation the user does not have to look up the emergency number instead the app dials a location based emergency number. Also when the user dials 911 the camera captures an image and uploads automatically.
If needed, law enforcement is able to access information from DateScan such as the user's GPS location and route tracking, previous comments, photos and audio, and time stamp of any emergency alarm with simultaneously audio and photos as well as general and emergency contact information.
DateScan is designed to work in all parts of the United States where there is adequate cell phone coverage. While the app's focus is on keeping dating safer, the app can also be utilized in other situations where someone may not feel safe being alone such as walking to their car or realtors who are often in homes alone with strangers during showings.
For limited time, DateScan credits, used to operate the features on the app, are being given away for free, by helping to promote DateScan on Facebook and Twitter. There is currently no limit to have many DateScan credits that can be earned by sharing. To learn more about the app and its features, visit DateScanApp.com.
Share: