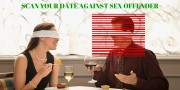 A new app known as DateScan has the potential to save a person's life and should become an integral part of the dating app as soon as possible.
Orlando, March 5, 2016 (Newswire.com) - ​In a world where more and more people are using on-line dating sites and dating apps like Tinder. There is the desire to find that special someone. Many people struggle with knowing who they are going to meet, and it can be a security issue. A new app known as DateScan has the potential to save a person's life and should become an integral part of the dating app process as soon as possible.
"We believe that love is blind, but dating shouldn't be," explains a spokesperson with DateScan. The app is equipped with a variety of features, geared towards making the dating game safer for those who wish to utilize the speed and efficiency of on-line dating. Further, it is designed to prevent people from experiencing the possible pitfalls that go along with the dating process.
Signing up only takes a few minutes. Verifications take place in order to protect safety also there is no ability for on-line spies or hackers to access user's information, since data is safely stored away in the cloud. User can search offender registry with the touch of a button.
Let's say that any girl agreed to a blind date or a first meeting with a potential paramour and things are not going well and deploy a tactic where a friend or family member has an emergency. This is not a foolproof plan. The DateScan app provides features for this, as well. It includes the "fake call" feature that allows a person to extricate themselves from the situation faster.
Other features include SafeTrip, Siren, and Dynamic 911. The SafeTrip allows a person to take photos of their journey and add comments, making it possible to feel more comfortable with a stranger while on a bus, in a taxi, or even at the movies. Siren provides a button that can be pressed in any situation, which immediately draws attention to the person.​
DateScan also makes it possible to store numbers of emergency contacts and list of government assistance numbers. These provide a one click access at all times, should a person need them. It can also provide a significant amount of comfort knowing that they are there.
The DateScan app is dedicated to providing people with a more secure sense of safety, even when trying to meet someone new. Outdated techniques are no longer viable when trying to extricate one's self from a bad situation. The app can be downloaded from the Apple Store and coming soon to Google PlayStore.
About DateScan App
The DateScan app is aiming to make dating safer. DateScan offers a variety of features that helps the user stay safe, escape awkward situations, store important data, and check offender registries with a name and touch of a button. DateScan is available for free download at Apple iTunes. ​ DateScanApp.com.
Share: