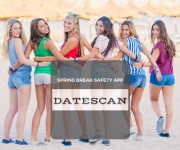 Spring Break Dating is faster than tinder swipe. For safety while on vacation, use DateScan. DateScan is your spring break safety app.
Florida, March 15, 2016 (Newswire.com) -
Spring Break is on in US and college student is getting ready to go on a vacation with their friends. While spring break is for fun, booze and hook up, Student safety has to be top priority. Whoever they are and whatever they do, they have to be sure that they are not putting their life in danger. Nowadays, a lot of people are get hook with blind dating and many other 'speed dating' apps like Tinder,Clover,OkCupid,Zoosk,POF and many more. No matter how safe student think their date would be, they still cannot disregard the fact that danger is just around and untoward incidents can happen anytime. Good thing there is a Spring Break dating safety app available in the digital market today. Since safety should be student's prime concern, every student should be using such apps.
For a lot of student who have been used to dating, they can attest that Spring Break Dating is absolutely faster than Tinder Swipe. However, some argues that its speed is vain if it does not offer high level of safety for people involved in dating. This is the main reason why a dating safety app such as the DateScan has been created. DateScan app is packed with unbelievable safety features that will increase the security of its users. It includes Call emergency number, Offender Search, Remote Server upload for privacy, and a whole lot more. With all these highly functional features, student have the peace of mind that they will not get into troubles as they have their date this Spring Break.
For those who is going out of Country, Dynamic 911 is most important function for them, if anyone needs to call emergency service outside of USA. DateScan dials emergency number based on user's location so user does not have to remember the number.
So what are you waiting for? This spring break make sure you already have DateScan app installed on your phone.

About DateScan App
The DateScan app is aiming to make dating safer. DateScan offers a variety of features that helps the user stay safe, escape awkward situations, store important data, and check offender registries with a name and touch of a button. DateScan is available for free download at Apple iTunes. ​ DateScanApp.com.
Share: